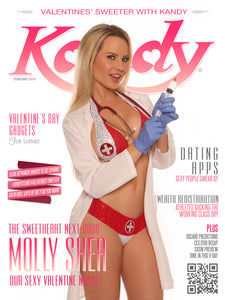 Kandy Magazine
February 2019 Digital Edition
税金(包含)。
Celebrity turned nurse Molly Shea is 2019's Sexy Valentine and recalls her reality tv life as one half of the Olly Girls and shares with us her new world of nursing in a stimulating interview and pictorial.
Plus pictorials of Elisa de Panicis of Italy and Cherie Noel of Californa.
Kandy writers tackle:
Dating Apps Sexy People Swear By
Valentine's Day Gadgets for Lovers
Wealth Redistribution in America between Professional Athletes and The Working Class
Dine in This Valentines and Go Italian with this can't miss meal
Plus CES recap, SXSW preview, and OSCARS' predictions.
---
分享此产品
---
该产品系列中的更多产品